As we celebrate our 30th Anniversary of farming we are buying the farm! These pop-up dinners are seasonal celebrations and a way to express our creativity with the magic of the harvest . It has always been our goal to keep the farm alive and while we are still kicking inspire the next generation to pick up where we left off. Our region would not be the same if it wasn't for a local regenerative organic farm like ours.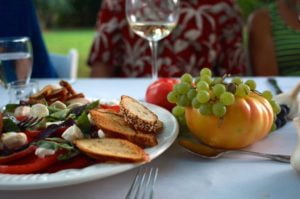 Our latest rendition will be a crowd pleaser! And you'll want to book a table well in advance. We don't have any idea what the menu will be, but assured some delightful harvest centered menu. Out soon!
Rorick Heritage Wines will again be providing their awesome wine and possibly be in attendance!
September 9th – Fall Celebration Dinner @ Outer Aisle Venue
6; 6:30 and 7pm seatings
1st course:
Baby mixed greens, tomatoes, bell pepper and tarragon vinaigrette
2nd course:
Chicken Puttanesca with tomato, capers and olives or Vegetarian Entree: Lions Mane Puttanesca with tomato, capers and olives
Both entrees come with creamy mashed potatoes, Shishito peppers (mild), Todd's Extra sour bread
3rd course:
Honeydew melon sorbet
Tickets: $55 Prix Fixe all inclusive – (service charge and taxes included in price)
Please click onto our reservation page and request a booking for your party. RESERVE