LOOKING FOR A CATERING QUOTE:
As seasoned caterers we specialize in providing warm and friendly service and a great selection of seasonal menus. We've catered in many of the wonderful outdoor venues in our Tri-county region and are equipped to bring the kitchen and barbecue with us. Please fill out the Contact Form below and we will get back to you soon.
LOOKING FOR A VENUE FOR YOUR EVENT?
Let us create a memorable experience for you and your guests at one of the special venues in Murphys. Whether you are hosting a wedding reception, a conference, or celebrating an anniversary or birthday, our venue's great vibe, friendly staff and fresh seasonal cuisine choices will meet your special needs. And, we pride ourselves in creating a warm and homely environment for you and your guests.
About the Venue: Our beautiful modern facility is located conveniently across from the Murphys Suites Hotel. ADA accessible all round, ample parking and within walking distance to downtown Murphys.
An Eye for Beauty: We've been hosting parties and pop-up seasonally inspired dinners on many occasions now and can lend an eye to creating a beautiful experience for you and your guests. Whether it's a luncheon meeting, wedding reception, birthday or anniversary our dining room is large enough to comfortably seat up to 100. The dining room can also be partitioned to separate parties; making it a perfect venue for smaller groups or those wanting more privacy. The dining room lends itself to flexibility (as seen below in the pic without tables and chairs we can host 150 with dance floor and live band. The spring, summer and fall months are perfect for outdoor dining. The perennials and butterflies welcome you to dine outside on our Foodie Friday events or host a Rehearsal Dinner party.
Looking for a Tasting? We host an event bi-weekly year round that we dubbed "Foodie Fridays" that celebrate our love of the seasons and the bounty that each moment presents. We enjoy creating fun and exciting, as well as nutritious and delicious food inspired by the season and the our bountiful gardens. If you'd like to investigate us by reserving a table at Foodie Fridays check out the upcoming dates and bookings here. View the menu here.
Looking for an exclusive venue for your Rehearsal Dinner? We've hosted many rehearsal dinners and made many bridal parties very happy.  Take out the planning hassle – we have everything on site to make the occasion smooth and relaxing.
Putting on a Fundraiser? For groups with a worthy cause that meet our criteria, we offer a discounted rate.
For wedding parties:  A perfect indoor/outdoor space, complete with a perfect dance floor. Whether you are celebrate your wedding reception, welcoming your out of town guests with an appetizer welcoming party, or conducting your rehearsal dinner in our flower garden and outdoor patio we'll come up with a menu to suit the occasion. Rentals included with the venue fee – tables, chairs, flatware, glassware and plates – everything you need for hassle free planning.
Having your wedding off-site? We'll keep our doors open for an after wedding party complete with DJ and great dance floor. Consider booking us for a "no-host" brunch for sending off your guests on Sunday. Available for off-site full catering needs.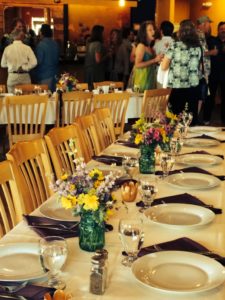 Rent out our entire facility for the weekend! Host a welcoming party, rehearsal dinner, reception and brunch. Our wedding packages are tailored to meet your needs and provide a safe and fun experience for all.
Our event planner will put you in touch with a DJ, transportation service and book rentals to ensure your event is a great success!
Details:

Rates vary depending on whether it's a weekday or weekend, peak or off-peak seasonality, and the size of the group. Rates include: tables, chairs, plates, flatware, glassware and linens. We are licensed to serve beer and wine.
Our catering services are an additional fee. We take care to only offer fresh seasonal menus that are artistically and creatively put together. Growing food and presenting beautiful tasty dishes is our pleasure. Everything is cooked from scratch by us, using ingredients that are seasonally available and often grown by us too. Read about Eric and Christine here.