Outer Aisle's mission to build community through connection and intimacy extends beyond farming and food. Our venue has just the right vibe to get things moving in a positive direction.
You'll find an eclectic offering from fusion dance to cafe to corporate weekend retreats. All of our offerings are co-created as a model of cooperation at the highest level of integrity, with loads of good vibe and fun.
FEBRUARY 2020
Friday February 7th: A warm welcome to everyone to join in the movement of the body – a delicious offering led by Oni Moschetti in a safe warm loving environment.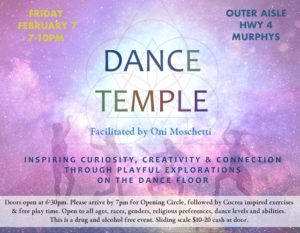 FEBRUARY 14th – Valentine's Day Dinner – please see our menu & pricing here