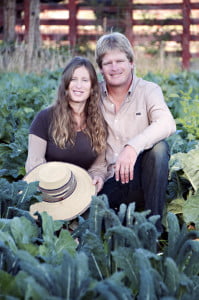 Outer Aisle Restaurant owners Eric and Christine Taylor have been pioneers of the local food movement since 1993. Their farm, located in Douglas Flat just a mile from the restaurant, is the primary source of fruits and vegetables used by their expert culinary team.
Christine hails from New Zealand, where her Lebanese ancestral roots were celebrated with traditional foods and social gatherings. She met her husband Eric in Bear Valley on a work exchange. Eric's family has been farming in Vallecito since the pioneer days of the mid 1850s. On family trips to Europe at a young age Eric was introduced to the culinary traditions of Italy and France and was inspired by cuisine based on seasonality. Together, they merged their love of fine food and farming to found Outer Aisle Restaurant.
On two sustainable farmed acres they produce over 200 varietals ranging from heirloom tomatoes to broccoli and carrots. Their heirloom vegetables have an amazing one-of-a-kind pedigree – some of the seeds were given to them by a founding pioneer family and date back to the late 1800s. The carefully tended vegetables grown from these seeds result in flavors of distinction which add even more to the restaurant's exciting menu.